Walk or Run
Physics for a rainy day! If you're caught without an umbrella, and need to get from A to B, should you walk, or run? It is an old puzzler... but once you have this app, you'll need puzzle no more!

Available on iPhone, iPad, and iPod.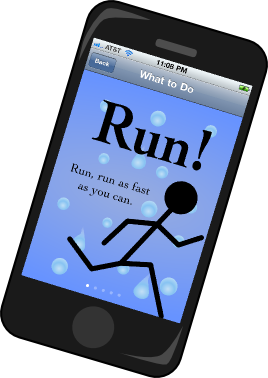 Easy to Use
It just takes three inputs: the approximate wind speed, the direction of the wind, and your shape.
Curious Results
It turns out, the answer to the riddle is 'it depends.' Sometimes you should run, sometimes you should walk. This app will even tell you the optimal speed to go, if there is one.
Great Detail
Beyond being told to run or walk, this app will draw graphs of your expected wetness - breaking it down to your front, top, and sides. What do you care about most? Use this app to keep that part of you dry!
Rainy Links
Mythbusters: should you run in the rain? Or should you walk? Mythbusters approached this question not in a theoretical sense, but in a practical one. The episode is online to watch.
Doug Craigen's Physics Page: This has a good description of the problem, where to get started, and a script that will compute how wet you should expect to get.
The PDF of David E. Bell's 1976 article: he also gives a good treatment to the problem. While short, it derives the important equations and presents illuminating graphs.
Latest News
January 2011: Walk or Run Released!